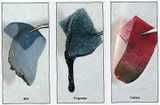 There are sewists who catalog every piece of fabric that they buy (unless they use it right away).* I am always very impressed by their organization and vow to do the same. Until I forget and mindlessly add fabric to my stash.
And then I want to use it (or sell it) and I only have a vague idea of the fabric content. Burn tests to the rescue!
Ditzy Prints has provided a nice flow chart to use as a cheat sheet to determine fabric content. I must say, I intend to use the flow chart because it seems easier to use than Claire Schaeffer's Fabric Sewing Guide (although I may be tempted to buy the latest edition when it comes out later this year).
If you've been considering Sandra Betzina's More Fabric Savvy but wanted to look inside of it before ordering it online, you can get a good feel for it via Google Books. The entire book is not available online, but at least you can see if you want it (and you don't have to wait for it to come via inter-library loan if your library doesn't carry it–the crazies!).
And finally, it has nothing to do with identifying your fabrics but it has to do with my stash. Since I am working at a university this semester and my time is extremely limited (whose isn't?), I decided to create an Etsy shop to sell my stash. My user id at Etsy is "sewingcabinet" (grandmassewingcabinet wouldn't fit). Currently, there is only one piece of fabric on there, I sold the other, but every weekend I intend to put some more fabric up. I'm just finding that it is easier to use Etsy than Pattern Review's classified section because there isn't the barrage of "did you sell it yet?" kinds of emails when I list something. Once it is sold, it disappears.
*Caroline~I tried to find your post that shows a photo of your fabric tags, but couldn't find it. Could you include a link in a comment or send it to me??